Armin Hansen - Biography
Born in San Francisco in 1886, the well-traveled painter and etcher Armin Hansen was less worldly than an explorer of life at sea, both on deck and even more so in capturing the spirit of marine life on canvas.


His father Herman Wendleborg Hansen was a distinguished American Western artist himself who provided him with early instruction. Continuing his studies as a formal painter at what would become the San Francisco Art Institute (then the Hopkins Institute of Art) under Arthur Mathews, Armin went on to the Academy of Fine Arts in Munich under Carlos Grethe after the 1906 San Francisco earthquake and subsequent fires destroyed much of his home city. Remaining abroad after finishing, Hansen's attraction to marine life led him to Niewpoort, Belgium and from there on board as a deckhand on Norwegian fishing trawlers and other commercial vessels.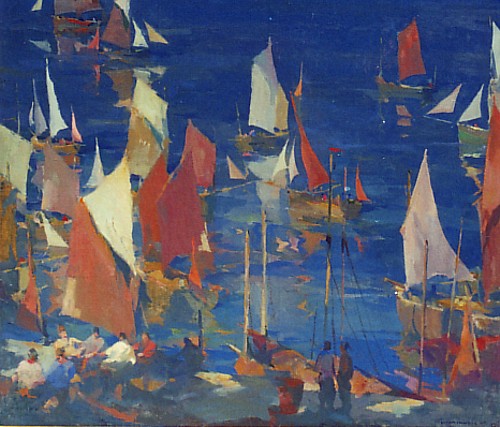 "Tapestry of Sails"
Oil on board, 28 x 32 inches
SOLD

He eventually returned to California and settled in Monterey in 1913. There, eschewing at once the more conservative impressionistic tradition and the modernist trends of his day, Hansen went on fashion a robust style featuring stoic figures enduring the throng of chaotic seascapes, realized in deep, saturated primary colors and bold angular brushstrokes. Although throughout his career his subject matter ranged from oils and etchings of aquarium-like still lifes to landscapes and frenetic rodeo scenes, he is most known for his depictions of Portuguese, Japanese, Sicilian fishermen and boats painted in Monterey, which evince the rugged endurance of men amongst tidal forces and sealed his legacy as one of California's most important artists of his time.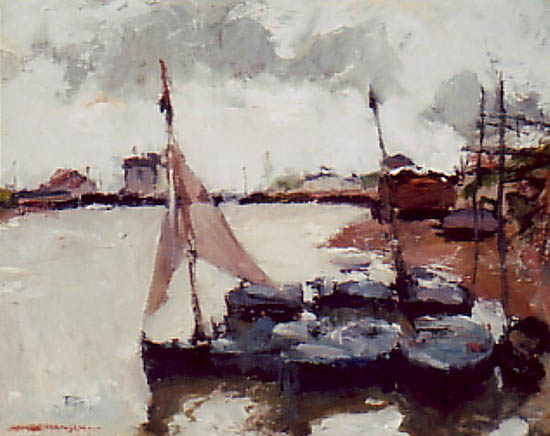 "Fishers Landing"
Oil on board, 16 x 19 inches
SOLD

Elected to the National Academy of Design in 1926, Hansen moved in circles including Carmel Art Association, the Monterey School, and the Society of Six and was one of the best teachers of his day with students counting C.S. Price and August Francois Gay. He exhibited at the 1915 San Francisco World's Fair Panama-Pacific International Exposition. While his subject matter took up where art and literature of the preceding century left off, his singular style captured what it was to endure shifting and elemental forces in America and heavily influenced the techniques of the modernist generation that studied under him.
Call (800) 833-9185 or email to info@kargesfineart for further information